Deputy Minister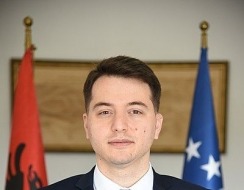 Getoar Mjeku
Deputy Minister
Getoar Mjeku  is a commercial and international lawyer. Born in Prishtina in 1987, he graduated magna cum laude with an honors bachelor's from Texas Lutheran University and cum laude with a Juris Doctor degree from Southern Methodist University.
He holds a law license in the U.S. state of Texas, and has practiced law with firms in the United States and various organizations in Kosovo. He has authored several articles published in international journals and edited volumes.
He is a lawyer and activist of the VETËVENDOSJE Movement, Mjeku represented plaintiffs in strategic litigation against abuses in publicly owned enterprises, environmental protection and the energy sector.
From February to June 2020, he served as legal adviser to the Minister of Economy in the first Kurti government, drafting key decisions to remove PoE directors for violation of their fiduciary duties, to address the mismanagement of public property, and to impose reciprocity measures in trade relations with Serbia.
From 29 March 2021 to 1 September 2022, he served as Deputy Minister of Industry, Entrepreneurship and Grade in the second Kurti government, helping with the rule of law, legal reforms, investment promotion, and trade issues. Deputy Minister Mjeku oversaw the drafting of key legislation covering investments, fuel market, foreign trade, competition, inspections, intellectual property and price control.
On 1 September 2022, Mjeku was appointed Deputy Minister of Economy.
---